Protos Integral Arborist Helmet, olive
ex VAT( inc VAT)
Product code:

B2210-OL
In Stock
Next working day delivery
If ordered before 2pm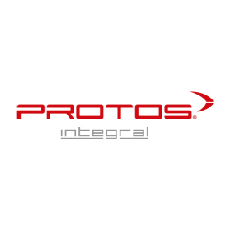 The Protos is an entirely new and innovative helmet designed for arboriculture, offering significantly improved safety and comfort.
IMPROVED FUNCTIONALITY
As the name 'integral' suggests, all parts are integrated neatly into the helmet shell, preventing them from getting caught on twigs or brushwood
The contact pressure of the ear defenders is adjustable, for improved comfort and a more exact fit to your head shape and size
When not required the muffs can be simply pushed aside into the integrated garage under the outer helmet shell
The clever design of the integral visor allows an excellent field of vision compared to other helmets
The construction of the shell guarantees active ventilation, allowing air to flow in from all sides and out through the channels on top (the vents can be opened or closed as required)
Comfort is further enhanced by large contact pads inside the helmet which ensure rapid sweat transport
The neck protector grips the back of the head ensuring the helmet sits perfectly even when working upside down or at an angle
Deactivation of the neck protector allows the helmet to be rapidly removed without any need to adjust the size
All functions on the Protos can be simply adjusted with just two fingers
Supplied with a G16 visor which has a special coating to reduce reflections of sunlight and prevents the visor from freezing over at sub zero temperatures.
IMPROVED SAFETY
The patented neck protector guards the back of the head against impact and minimizes the danger of basal skull fractures
The cushioning construction of the interior shell, which is made of Koroyd and is able to withstand high impact without crushing, effectively absorbs shock in the event of an impact, diffusing it evenly over a large area and thus reducing risk of injury to the head or spine
The sporty colour design offers 35% more visible surface giving the wearer a great advantage in situations where visibility is limited by foliage, poor lighting, bright sunlight etc
Olive, SNR23. Conforms to EN12422.
FREE UK Delivery
If you wish to return an item ordered online, we will be happy to offer an exchange or refund as you wish, providing:
The item is in perfect, new and clean condition
The packaging is new and undamaged
The item is sent back with a returns number, within 21 days
To request a returns number please fill in our 
online return form
.
Click here to read our full returns policy
Free Delivery on orders over £100! Our free delivery service applies to orders over £100 before VAT, for delivery to UK Mainland. For smaller orders, or delivery to Scottish Highlands, Offshore Isles and Northern Ireland, there is a postage contribution based on weight. You'll be shown the delivery option(s) when you go through the checkout. Overseas delivery services: We deliver to many locations abroad. If you require delivery outside the UK, please contact us with your requirements and we will be glad to provide a shipping quote.