Home PPE & Clothing Helmets & Head Protection Helmet Parts Protos Integral Bluetooth Communication Headset
Protos Integral Bluetooth Communication Headset
£384.00 ex VAT(£460.80 inc VAT)
Product code:

please select size / colour
Bluetooth communication headset for Protos Integral Arb helmet…
Read more
Available on backorder
Item will be shipped later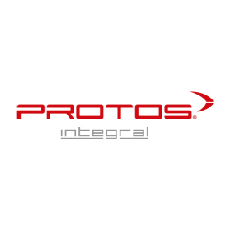 PLEASE NOTE THAT THIS IS A NON STOCK ITEM AND MAY TAKE A FEW WEEKS TO BECOME AVAILABLE.  PLEASE CONTACT US FOR CURRENT LEAD TIMES AND AVAILABLITY
Landmark Trading offer a range of hands free communication systems ideal for forestry and industrial workers, that for safety, need to be able to clearly communicate with one another to give instruction, training, or safety messages. Please get in touch with one of the sales team to discuss your requirements and the options available.
The Protos® BT-COM capsule connects into the existing Protos® ear defender bracket. No wiring, drilling or clamps are required to fit to your Protos® helmet. All of the BT-COM technical components are incorporated in the ear defender capsule and with no cables and connectors, this guarantees maximum comfort with no risks of snagging. With only a single multifunction button and two volume buttons, the BT-COM can be easily operated with just one finger.
With a range of up to 300 metres (clear site) and a battery operating time of up to 12 hours, the Protos® BT-COM will go through one working day without problems. Recharging the battery is easily done via the USB on the Protos® charging bracket. A full charge takes around 1.5 hours and the BT-COM can remain in standby for several days.
The BT-COM allows the connection of 4 BT-COM units providing uninterrupted intercom connection between four operators. There is also the ability for each unit to be connected simultaneously with a mobile phone via Bluetooth. Accepting phone calls can be done hands-free by pressing the multifunction button with no need to remove the phone from a pocket. Once an outgoing phone call is executed from the hand-held device, the conversation can be carried out hands-free via the BT-COM. The conference function allows another participant to be added and the distance can be extended as long as a mobile network is available.
The Protos® electret microphone diminishes unnecessary background noises by up to 20 dB whilst always guaranteeing clearly understandable voices. Background noises remain perceptible, allowing any external danger situations to be recognised.
Bluetooth allows interference-free communication in areas where there are strong radio frequencies and Bluetooth connection does not incur any licence charges.
Included:
One Protos® BT-COM unit (left side).
One Protos® BT-COM Charging Bracket c/w USB connector
One Protos® BT-COM Carry Case for storage
* Protos Integral helmet not included
Technical specifications:
Bluetooth Version 4.2
Noise attenuation of up to 26 dB
USB charging port 5V DC, 200 mA, reverse polarity protected
Lithium ion / polymer battery 3.75V 600mAh
Speaker output power 0.2 Watt
Available in black, blue, green, hi vis yellow, olive, orange, red, white and yellow.
If you wish to return an item ordered online, we will be happy to offer an exchange or refund as you wish, providing:
The item is in perfect, new and clean condition
The packaging is new and undamaged
The item is sent back with a returns number, within 21 days
To request a returns number please fill in our 
online return form
.
Click here to read our full returns policy
Free Delivery on orders over £100! Our free delivery service applies to orders over £100 before VAT, for delivery to UK Mainland. For smaller orders, or delivery to Scottish Highlands, Offshore Isles and Northern Ireland, there is a postage contribution based on weight. You'll be shown the delivery option(s) when you go through the checkout. Overseas delivery services: We deliver to many locations abroad. If you require delivery outside the UK, please contact us with your requirements and we will be glad to provide a shipping quote.